It's that time of the week again -
#WIAW.
I'm loving doing these posts more and more each week. What I love even more is nosing in on other peoples What I Ate Wednesdays. It gives me so many ideas for new foods to try as, as I've said before, I do get kinda stuck in a rut with my food. Do you go through phrases of eating the same foods too or is it just me?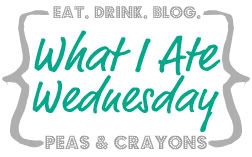 Breakfast
My breakfast was yummy this morning. I hadn't had fruit for breakfast for a few days and it was so nice to have it this morning. It was oats soaked in almond milk over night in the fridge, topped with frozen summer fruits (blackberries, raspberries, cranberries and blueberries), half an apple and cinnamon. This has definitely become my go to easy breakfast in the past few months and I love getting in a healthy breakfast before I start the day.
Something that I noticed in a few blogs was the additional of
Chia Seeds
in their breakfasts so I've ordered some of them to try in the coming weeks.
Lunch
Lunch was the rye bread amaranth / quinoa that I'm loving so much at the moment, topped with avocado, sliced tomatoes, mature cheddar cheese and chilli flakes. As usual it was delicious! I'm struggling to find a lunch that I enjoy as much as this. I served it with a small side salad of watercress, celery, mushrooms and red onion. The salad was simply whatever veg I had in the fridge - I think I need to go veg shopping.
Tea
After a gloomy start to the day, weather wise, it brightened up later on so I sat in the garden reading. Time flew by and by the time I realised what time it was it was 7:30pm. By that time I couldn't be bothered cooking anything so opened the fridge down and found this garlic bread in there. It doesn't really fit with my low carb, healthy lifestyle I'm going for at the moment but hey. I've gotta say though, I didn't really enjoy it. Well, the first 2 slices were delicious, but that was enough really. Anything after that made me feel kinda heavy and bloated. I don't know how I used to eat this stuff as regularly as I did. I left 3 slices as I was just eating it coz it was there, not because I wanted it or was enjoying it.
That completes my What I Ate Wednesday for another week.
Post the links to yours in the comments.