Hola Sparkly1s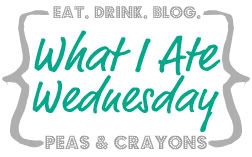 Welcome to another
WIAW
.
I've been reading
Blogilates
a lot the last few days and that inspired me to look into the amount of carbs in fruit. As you may know, I'm trying to decrease my carb intake (as a pizza, pasta loving vegetarian this has been no mean feat) and I was surprised to read about some peoples views on fruit. Now, I'm not saying I quitting fruit. I love fruit! But I am going to try and eat more veggies instead of fruit. Maybe, celery and carrot sticks instead of an apple? I dunno if that's the right thing to do (I'm gonna do some more reading into it) but I'm gonna give it a go and see how I feel.
Breakfast
I have to say it felt slightly strange eating this for breakfast. It was 1 whole egg, 1 egg white and a splash of almond milk made into an omelette. It was filled with spinach, sweetcorn and peas, topped with a sprinkling of chilli flakes (I've a little of an obsession with chilli flakes at the moment - they go on everything!)
As I have my breakfast at about 9:30am this wasn't as bad as if I eat it earlier but it was still strange.
Lunch
Lunch was this fabulous (or as they call it amazing, which I kinda think is a bit too presumptuous of
Marks and Spencer
) Amazing Avocado & Feta with mint & crème fraiche dressing. It was super yummy, but it was only after I'd eaten it I thought 'hmmm, bet that had a lot of calories / fat etc' so I checked the label. it did. But it was all goodness - quinoa, rocket, avocado, feta, broad beans... I also only used a bit of the sauce so I reckon I saved myself a few there and I only managed three quarters of it as it was quite filling.
As a vegetarian, I've been looking into how I can get more protein into my diet and I've read that quinoa is a great option, which is kinda why I chose it. Is that true?
Tea
I love a wrap, or tortillas or enchiladas but normally I'd have around 3 white wraps with veg in. As I'm cutting down on carbs I decided to have 1 wrap and cram it full of veg. It was only afterwards I realised it was another avocado and cheese 'thing' like my lunch was. Is 2 avocados in one day too many? Ahh well, it was a one off. They are fast becoming my new favourite food though after years of hating them!
I filled my wholemeal wrap with
1 avocado
a few different varieties of tomatoes chopped
quarter of a red bell pepper
few slices of red onion
small amount of mature cheddar cheese
I folded it in half and placed it under the grill for a few minutes to slightly melt the cheese inside and give it a nice bite. Even if I do say so myself, it was bloody wonderful!
I hope you enjoyed this WIAW. I don't know how I feel about cutting back on fruit after a whole day of not eating it. What's your opinion on it? Have you tried it?
Are you a vegetarian? How do you make sure you get enough protein in your diet?