Well, Wednesday's swung round again fast hasn't it? Can someone just slow down time a little bit please? - it's going far too fast for me at the moment.
I had a very colourful, fruity day for this
#WIAW
. The reason was, not to be healthy, but I'm on holiday tomorrow (have I mentioned how frickin excited I am?!) so todays eats (or should I say drinks) were all about using up the food I've got in. It just so happened it was mainly fruit so that could only mean one thing for me lately - trying out new recipes with my new
Breville Blend-Active
.
Breakfast
The first smoothie of the day was a yummy concoction of
2 bananas
3 plums
a handful of strawberries
pure squeezed orange juice
a handful of ice cubes
I loved this one. I thought it was going to be a bit odd with mixing bananas with the orange juice but it was delicious and very filling.
Lunch
In the morning I was checking over my greenhouse and found quite a few tomatoes that were ready for eating so I picked them and decided to use them in my lunch. I couldn't think of anything majorly exciting to do with them but I had a seeded bagel or two left over, bit of cheese in my fridge so I made pizzas.
My love for pizzas
is never ending!
Snack
Honestly, this was one of the most revolting things I've ever tasted and I only managed to drink half of it. I found the recipe on
Breville Creative Kitchen
which has some tasty looking recipes for the blender. It was one of the only recipes that I had all the ingredients for so I thought I'd give it a go.
When I follow a recipe I never pay attention to quantities. I always just add what I think. On this occasion, I think I messed up the quantities. I'll try making this smoothie again following the instructions but this time it was just all wrong.
Tea
I was not put off by my smoothie snack and stuck to another smoothie for tea. This one was
2 nectarines
3 plums
3 tablespoons of greek yoghurt
squirt of honey to taste
This one was delicious. I didn't add the honey at first but after tasting it without I decided it needed a little something to sweeten it slightly.
My fruit bowl is now almost empty and I'm pleased that I used most of it up before my holiday. I hate wasting food.
I was surprised that I wasn't at all hungry throughout the day. I've never tried a smoothie/juice detox before as I felt it would be impossible for me but I really enjoyed making the smoothies and might look into these detox things a bit more.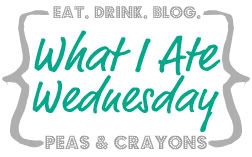 What do you do with your fruit / fridge contents before a holiday? Do you make weird and wonderful dishes to use it up?
Have you tried a juice cleanse?